Attractions
Back to the list
Eligible to Passport Holders
Rainy day OK
Usage restrictions
Small kids can also enjoy
Available for pregnant women
Wheelchair accessible
Enjoy with the family
Enjoy with friends
Enjoy with your partner
Harbor Town
Fee

Passport target * Some charges apply
Opening hours

◆1/18(月)~2/7(日)
平日 10:00~18:00
土日 9:00~18:00

※店舗出入口にプリクラ機とミニクレーンゲームを設置して一部のみ営業しております。
Japan's first permanent Game Museum filled with the past and present of digital games.
Experience the history of the game, including exhibits from NES to the latest models, and a history corner where nostalgic game consoles from the 70's and 80's are lined up!
Experience the world of "star" characters born from the game! "Character Studio"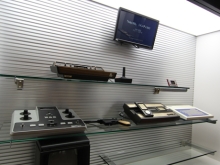 Approximately 60 types of home video game consoles! "Game console history"
Name of facility
Game Museum
Location
Harbor Town
Opening hours
◆1/18(月)~2/7(日)
平日 10:00~18:00
土日 9:00~18:00

※店舗出入口にプリクラ機とミニクレーンゲームを設置して一部のみ営業しております。
定休日
Fee
Passport target * Some charges apply
Remarks
Passport target

* According to the Nagasaki Prefecture regulations, parents under the age of 13 must be accompanied by a guardian after 17:00 and under the age of 16 after 18:00.
After 22:00, customers under the age of 18 cannot use the service with or without a guardian.

* Only available to those who have a passport.
* The contents of each game are subject to change without notice. Please note.


[About the epidemic prevention system]
Game Museum will resume operations after taking sufficient epidemic prevention measures.
・ Ventilation by regular opening of openable doors and disinfection every cycle.
© TAITO CORPORATION 1978 ALL RIGHTS RESERVED.
© BANDAI NAMCO Entertainment Inc.
© CAPCOM USA, INC. ALL RIGHTS RESERVED.
© SEGA
© Sony Computer Entertainment Inc.
© LEVEL-5 inc.
© GungHo Online Entertainment, Inc. All Rights Reserved.
© SUSUMU MATSUSHITA ENTERPRISE