Attractions
Back to the list
Attractions
Numbered ticket distribution target
Eligible to Passport Holders
Usage restrictions
Experience the thrill
Enjoy nature
Enjoy with the family
Enjoy with friends
Enjoy with your partner
Adventure Park
Price

Eligible to Passport Holders
An aerial adventure with a height of 9m!
A thrilling adventure course where you can challenge various elements (obstacles) stretched up to a height of 9m from the start to the goal.
Clear the great adventure with wisdom and courage!
The maximum height is 9m! A thrilling aerial adventure!
Overcome various obstacles such as suspension bridges and rope nets with wisdom and courage!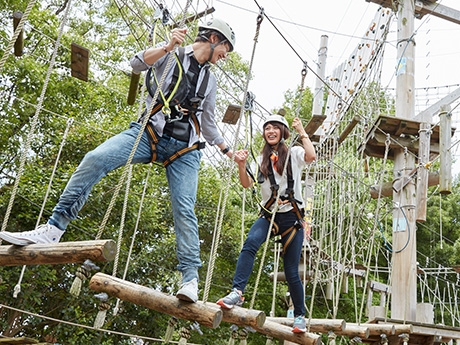 Name
Sky Castle
Location
Adventure Park Near the entrance
Time required
About 20 minutes
Price
Eligible to Passport Holders
Remarks
usage limit
・ Numbered tickets may be distributed during times of congestion.
・ Elementary school students with a height of 110 cm or more and less than 130 cm must be used with their parents (junior high school students or older).
・ Elementary school students with a height of 130 cm or more do not need to use it with their parents, but please wait at the "Sky Castle".
・ When playing under 12 years old, the signature of the person who uses the consent form and the guardian (18 years old or older) is required.
・ The expert course (6, 9m) is limited to guests who have experienced the challenge course once. In addition, guests over the age of 65 are not allowed to use the service.
・ If you have any concerns about your physical or health (especially heart disease), you cannot use this service.
・ Those who are not comfortable to move cannot use this service. (Not available for sandals, mules and skirts)
Shoes and trousers can be rented for free at the reception, so please let us know.
・ If you do not agree to the prior explanation and consent form, you will not be able to use the service.

* Expert courses are accepted up to 1 time before the end of business.

* Please note that the final reception time may change depending on the congestion situation.