Attractions
Back to the list
Attractions
Vehicles / Others
Rainy day OK
Usage restrictions
Convenient for vehicles and movement
Price

[Pickup to destination] 300 yen per person (Vehicle type varies depending on the number of passengers) / [Huis Ten Bosch a round trip] 20 minutes / 2,200 yen, 30 minutes / 3,000 yen ~ (when using a small car / capacity 4) Name)
Easy taxi for easy transportation within Huis Ten Bosch
Huis Ten Bosch to your transportation to the destination a lot "Cart Taxi (CART TAXI)". We will pick you up at various places in the hall!

Take a leisurely Cart Taxi with a sense of liberation, and enjoy a conversation with the driver while traveling around the European cityscape.
Cart Taxi sightseeing is very convenient at such times!
■ Recommended for first-time visitors.
It takes more than 1 time to walk around the large area.
Why don't you go around the whole area at Cart Taxi and search for your favorite area from 9 areas?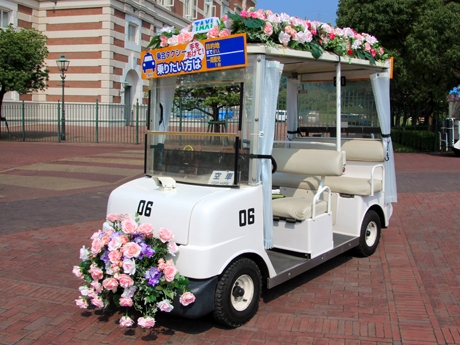 Name
Cart Taxi
Location
Other
Time required
Price
[Pickup to destination] 300 yen per person (Vehicle type varies depending on the number of passengers) / [Huis Ten Bosch a round trip] 20 minutes / 2,200 yen, 30 minutes / 3,000 yen ~ (when using a small car / capacity 4) Name)
Remarks
・車両は、3タイプございます(最大16名まで乗車可能です)。
・車いすやベビーカーは折り畳み乗せることができます(一部対応できない車両もあります)。
・お電話での呼出しができます(時間指定は承っておりません)。
・おもいやりパスポートお持ちの方は、送迎に限り2回までご利用できます。
【走行ルートについて】
・ハウステンボス天然温泉、ホテルオークラJRハウステンボスは、走行ルート外です。
・交通状況により、ルート変更または、予告なく運行を休止する場合があります。
 電話:0956-27-0245(受付時間:10:00~閉園)