Attractions
Back to the list
vehicle
Variety of bicycles, single ride to 4 seat ride!
Rental Cycle Fiets entry store
Vehicles / Others
Not eligible for passport
Rainy day OK
Convenient for vehicles and movement
Enjoy with the family
Enjoy with friends
Enjoy with your partner
Welcome area
Price

<Bicycle> Adult 1-seater 500 yen ~ <Stroller> 1,000 yen Premium Passport can be used for a 2-time limited 1-seater bicycle at the immigration store (until 17:00).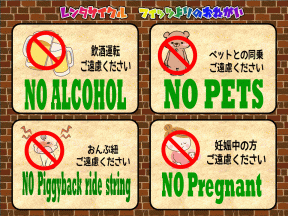 [Period] April 01, 2022-September 30, 2022
Information on using a bicycle
Considering the safety and hygiene of the guests, please use the bicycle of the guests
Please refrain from doing so.

○ Those who have been drinking alcohol or are planning to drink alcohol for meals.
○ Those who are pregnant
○ Those with pets
○ Persons with children under 1 year and 6 months (4 seats can be used by using the lock-type carrying strap that you brought, and 2 seats can be used horizontally)

guests appreciate your understanding and cooperation.
[Period] April 01, 2022-September 30, 2022
About using the guest-only plan
宿泊者専用プランをご利用の際には
宿泊を証明できるもの(ルームキー、宿泊予約画面etc)をご準備ください。また、オーバーナイトプランをご利用の際には翌日のご入場券が必要となります。
WEBでご予約された際の予約画面を印刷されたもの、スクリーンショット等を
ご提示いただきますとスムーズにご案内ができますので
お客様のご理解ご協力をよろしくお願いいたします。
【期間】2022年01月01日~2022年12月31日
About the operation of a one-seater bicycle for children on a busy day
Saturdays, Sundays and public holidays, such as the day before holiday guests on the day get a large number visiting the
Since children's bicycle collision accidents and injuries occur frequently.
Please refrain from using one-seater only for elementary school students.

If you wish to ride one person, we ask adults to ride a bicycle together.
We appreciate your understanding and cooperation.