A great performer, be a great person
Huis Ten Bosch develops various events, saying, "guests are all impressed!"
"Opera THE REVUE Huis Ten Bosch" is visiting get guests started, Japan, and all over the world for everyone
It was born to deliver a stage where "impression transcends national borders".
We will continue to grow into a theater company that can deliver inspiring entertainment without forgetting our passion for the stage and our dreams.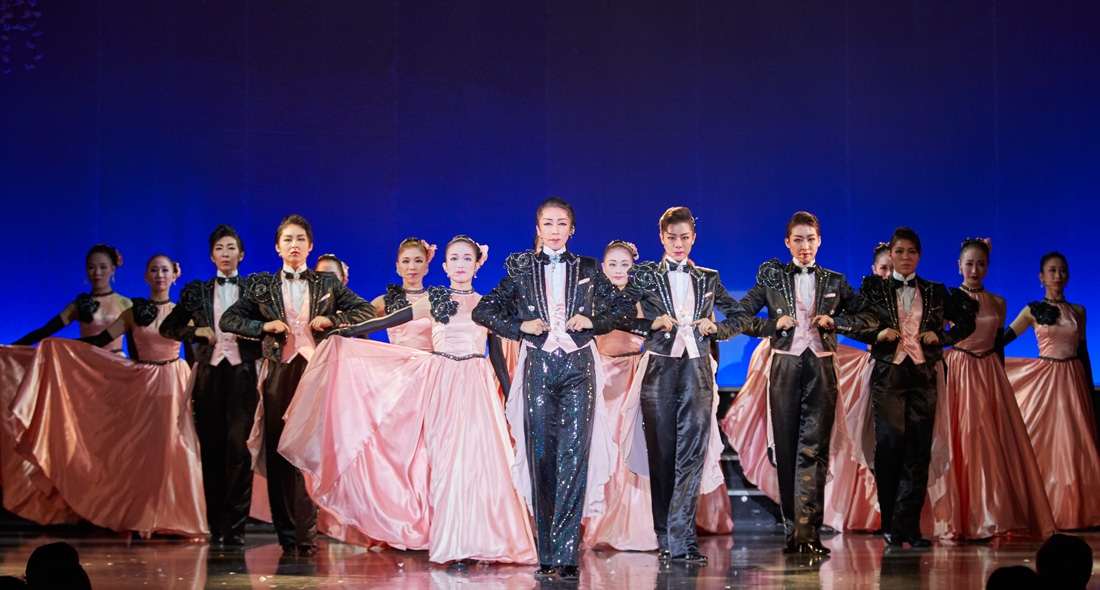 | | |
| --- | --- |
| 2017.3.4~ | K.K7335 ~ Tears of Android ~ (Team Flower) |
| 2017.4.15~ | GREEN FLASH ~ Sky dyed in the setting sun ~ (Team Light) |
| | |
| --- | --- |
| 2016.1.1 | Huis Ten Bosch Opera Company Team name changed to Team Shine (Hikari), Team Flower (Hana) |
| 2016.2.6~ | LOVE WITH BUTTERFLY ~ When the hydrangea blooms ~ (Team Hikari) |
| 2016.3.5~ | BIG WAVE ~ Phoenix Pirates Beyond the Sea of Blue Poseidon ~ (Team Flower) |
| 2016.6.18~ | 2nd !! Enchanted Exotica (Team Hikari) |
| 2016.8.6~ | KINGS ~ Full Moon Night ~ (Team Heart) |
| 2016.7.23~ | LIE & TRUTH ~ Lonely Flower ~ (Team Flower) |
| 2016.11.5~ | MOBIUS-Koimu Gentsuki no Eternal Story (Team Heart) |
| 2016.11.12~ | Eternal Dream ~ Seize the day ~ (Team Hikari) |
| | |
| --- | --- |
| 2015.12.4~6 | A fascinating collaboration special performance that makes the world flutter |
| 2015.11.3 | Kumamoto special performance held (Team Hana) |
| 2015.10.24~ | Dancing Heart ~ Setsuna ni RED SPARK ~ (Team Flower) |
| 2015.10.2 | World Flower Garden Show 2015 Premium Party Appearance |
| 2015.9.26~ | Espacio Passion ~ Passionate Space ~ (Team Hikari) |
| 2015.9.19 | Appeared in the 60th anniversary performance of Saikai National Park (Team Hikari) |
| 2015.6.13~ | MOVIN'ON! ~ With a little courage ~ Performance (Team Hana) |
| 2015.6.1~ | Short Musical Review Rain! Performance |
| 2015.4.10~ | Enchanted Exotica Performance (Team Hikari) |
| 2015.1.24~ | Sa / Ku / Ra performance (Team Hana) |
| | |
| --- | --- |
| 2014.12.13 | Osaka Castle 3D Mapping Super Illumination Show Opening Ceremony Appearance (Team Hikari) |
| 2014.12.1 | Sasebo Police Station 1st Chief (Yuga) |
| 2014.11.29~ | Magical Light ★ Fantasy! Performance (Team Hikari) |
| 2014.10.18 | RKB Radio Festival appearance (Yuga) |
| 2014.10.18 | Sasebo Police Station 1st Chief (Hayato Iori, Yuri Aina) |
| 2014.10.6~10.26 | World Flower Garden Show 2014 Event Appearance |
| 2014.10.3 | World Flower Garden Show 2014 Premium Party Appearance |
| 2014.9.20 | Kyushu Fireworks Festival World Fireworks Competition Final Pre-event Appearance |
| 2014.9.6~ | Legendary Dream ~ The Beginning of Love ~ Performance (Team Hana) |
| 2014.7.20~2014.11.24 | Blue blue wind ~ To Hikari ~ Performance (Team Hikari) |
| 2014.7.13 | HTB Opera Company 1st Anniversary Premium show ~ Origin ~ Performance |
| 2014.4.13~2014.7.19 | Flower Concerto Performance |
| 2014.1.11~4.12 | Love Emotion performance |
| 2014.1.11~2014.1.31 | Konyou-Celebration Dance-Performance |
| 2014.1.11 | Huis Ten Bosch Huis Ten Bosch Opera Company appears in Kokeraotoshi performance |
| | |
| --- | --- |
| 2013.11.23、11.24 | International Cultural Exchange Performance At the Royal Chatmock Theater in the Kingdom of Cambodia, some members will appear in Japanese Dance & Music ~ 60th Anniversary of Japan-Cambodia Diplomatic Relations / 40th Anniversary of Japan-ASEAN Friendship and Cooperation ~ (5 people) |
| 2013.10.11 | Appeared in Gardening World Cup Flower Show 2013 in JAPAN Eve Festival |
| 2013.9.1~2014.1.5 | Fantastic review "Fairies dancing in flowers" performance |
| 2013.7.13~2013.8.31 | Fantastic review "Fairy chasing a dream" performance |
| 2013.7 | Huis Ten Bosch Opera Company formed |