Attractions
Back to the list
walk through
Super Trick Art
Attractions
Eligible to Passport Holders
Rainy day OK
Small kids can also enjoy
Available for pregnant women
Wheelchair accessible
Enjoy with the family
Enjoy with friends
Enjoy with your partner
Attraction Town
Price

Eligible to Passport Holders
Mysterious and unique art labyrinth
A new world of illusions that make full use of lighting and perspective!
Expect more mysterious trick art, such as an upside-down room where people look like they're floating in the air, or a kangaroo popping out of a wall.

A unique art "trick art" that depicts the world of a plane (two-dimensional) in a three-dimensional (three-dimensional) is exhibited in one place. Parents and children can enjoy watching and touching the illusionary world created by making full use of perspective and lighting.
What is trick art?
Trick art is a unique art that depicts a two-dimensional painting in three dimensions. All of the works on display are drawn on the wall together with the frame, and the features are "touch", "take a picture" and "play". Visitors can experience the fun of seeing three-dimensionally, even though they know it as a picture, and the traps of art that await one after another with their own eyes and hands.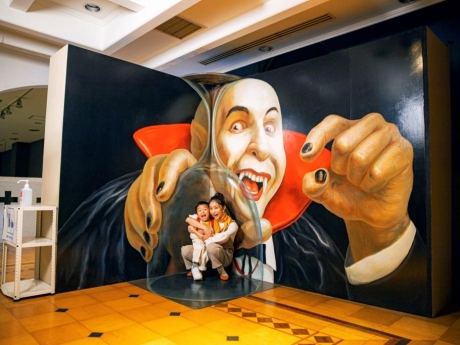 Points to play happily
● It looks more three-dimensional when you move away. If the distance is not enough, look with one eye or through the camera.
● If you look at one work while walking, or if you change the viewing position or angle, the appearance will change.
● I will touch all the works. If you are wondering, "Is it really flat?", Touch it and check it.
● Unlike ordinary museums, flash photography is OK here. Sit in the work, shake hands with the main character of the work, and challenge your own interesting photo. (When taking a picture, take it at a slight angle to prevent reflections.)
| | |
| --- | --- |
| Name | Super Trick Art |
| Location | Attraction Town Attraction Town |
| Time required | About 15 minutes |
| Price | Eligible to Passport Holders |
| Remarks | Admission is restricted when the building is crowded. |