Attractions
Back to the list
Museum
Palace Huis Ten Bosch
Attractions
Eligible to Passport Holders
Rainy day OK
Available for pregnant women
Enjoy with the family
Enjoy with 3 generations
Enjoy with friends
Enjoy with your partner
Harbor Town
Price

Eligible to Passport Holders
Faithfully recreation Dutch palace
Huis Ten Bosch cultural symbol of the "Palace Huis Ten Bosch". The exterior of the palace, built in the Hague Forest in the 17th century and now home to King Willem-Alexander of the Netherlands, has been faithfully recreation with the special permission of the Dutch royal family.

For example, the crown that shines on the top dome is the same shape and size as the Dutch palace, 1 meter 70 cm high and 90 cm wide. It was created by Ronbout, a copper decoration company with a history of more than 150 years in the Netherlands. Inside the museum, you can see a board with the names of the Dutch companies that contributed to the presentation of the crown.
"Phantom Garden" revived in Huis Ten Bosch
Behind the palace is a vast Dutch Baroque garden that is full of European sculptural beauty.
This garden was designed by French landscape architect Daniel Mallow for a Dutch palace in the 18th century, but was never realized. It was revived by Huis Ten Bosch based on the preserved drawings.
Based on Greek mythology, the beautifully arranged temple-style colonnades, fountains, sculptures, and decorative flower beds further enhance the palace.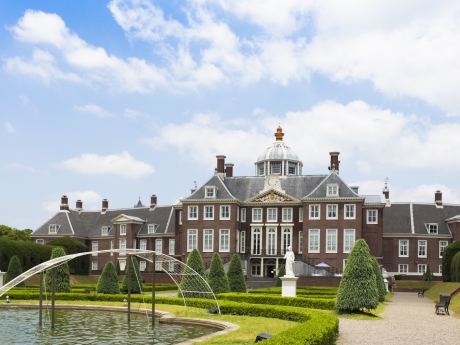 Name
Palace Huis Ten Bosch
Location
Harbor Town
Time required
Half an hour
Price
Eligible to Passport Holders
Remarks
■展示入れ替えのため一部の展示室を閉じている場合があります。
■パレスハウステンボスへのご入館は、パスポートをお持ちの方のみ利用が可能です。
■バンクシー展 7月22日より 金/土/8月7日/11日/14日/21日は18:30最終入館19:00閉館(通常17:30最終入館18:00閉館)