Attractions
Back to the list
Eligible to Passport Holders
Rainy day OK
Available for pregnant women
Wheelchair accessible
Convenient for vehicles and movement
Enjoy nature
Enjoy with the family
Enjoy with 3 generations
Enjoy with friends
Enjoy with your partner
Price

Eligible to Passport Holders
Convenient route bus that goes around the streets of Europe.
To walk around the venue efficiently, first get on the bus and get a feel for the whole thing.
The bus driver will guide you through each facility, event, and highlights. On the way, enjoy the seasonal flowers and scenery from the train window.
If you have any questions, please feel free to contact the driver.

Park Bus (Paid Zone Only) * Bus service may be postponed before the timetable due to congestion in the venue.
● Palace Huis Ten Bosch
■ Welcome ⇒ Attraction Town ⇒ In front of Fantasia City of Light ⇒ Hotel Amsterdam ⇒ Harbor Town ⇒ Palace Huis Ten Bosch
* Please use this service for guests staying at Hotel Amsterdam.
● Departure exit / in front of general shop
■ Palace Huis Ten Bosch ⇒ Harbor Town ⇒ Amsterdam Square ⇒ Art Garden ⇒ Departure Exit

Hotel bus (brown bus)
This is a bus exclusively for hotel users that connects the guest parking lot and each hotel in the venue.
Henn Na Hotel Huis Ten Bosch Hotel Europe Forest Villa Watermark Hotel guests can board.
● Information on departure time from baggage storage
From 9:00 to 19:00 (departs at 10.30.50 every hour)
First train 9:10 Last 19:10 (19:50 on Saturday)
From 11:00 to 13:00 on weekdays, the train departs at 10 and 40 minutes every hour.
乗れたらHappy♪「ワンダーランド」ラッピングバスが一足早く運行中!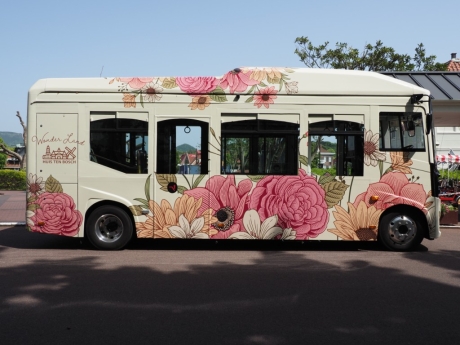 Name
Park Bus
Location
Other
Time required
About 10 minutes to Palace Huis Ten Bosch
Price
Eligible to Passport Holders
Remarks
現在、運行間隔、平日・土日祝の記載ですが、運行時刻は添付にてご確認くださいませ。

※終点に到着後、引き続きのご乗車は、一旦降車いただき「のりば」から再度ご乗車ください。ご協力をお願いいたします。