Attractions
Back to the list
Attractions
Numbered ticket distribution target
Eligible to Passport Holders
Experience the thrill
Enjoy nature
Enjoy with the family
Enjoy with 3 generations
Enjoy with friends
Enjoy with your partner
Adventure Park
Prices

Eligible to Passport Holders
スリル満点のぶら下がり式レールコースター誕生!
自然いっぱいの野外エリア・アドベンチャーパークに、レールコースターアトラクションが登場!
高さ11mのスタート地点から、一気に滑走し、上下左右に激しく体を揺らしながら、目前に迫る森の中を猛スピードで駆け抜ける1人乗りコースターアトラクションです。
Unexperienced thrills are here!
[Thrill 1] Start from the height of the 3rd floor of the building! Dive into the forest with courage!
[Thrill 2] Once you start sliding, you can't stop !! Can you slide on a 250m long course without closing your eyes?
[Thrill 3] The rails stretched in the forest are endless in all directions! Can you withstand the thrill of shaking up, down, left and right !?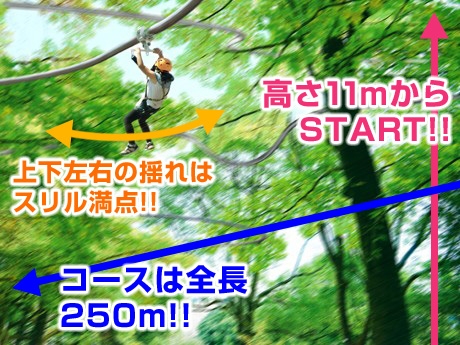 Name
Sky Rail Coaster ~ Windstorm ~
Location
Adventure Park
Time required
About 10 minutes
Prices
Eligible to Passport Holders
Remarks
以下のお客様はご利用いただけません。
・小学生未満のお子様。
・身長110㎝以下のお子様。
・12歳以下が遊ばれる際、同意書に保護者(18歳以上)のサインが必要です。
・体重90kg以上の方。
・65歳以上のお客様につきましてはご利用をご遠慮いただきます。
・身体・健康面(特に心疾患)に関する不安事項がある場合。
・動きやすい服装でない方 [シューズ、ズボンの無料レンタルあります]
・事前説明や同意書に同意していただけない場合。
※悪天候の場合は運休いたします。
※混雑状況により最終受付時間が変動する可能性がありますので予めご了承下さい。