Attractions
Back to the list
Attractions
Numbered ticket distribution target
Eligible to Passport Holders
Experience the thrill
Enjoy nature
Enjoy with the family
Enjoy with 3 generations
Enjoy with friends
Enjoy with your partner
Adventure Park
Price

Eligible to Passport Holders
A thrilling hanging rail coaster is born!
Rail coaster Attractions are now available in the nature-filled outdoor area Adventure Park.
Attraction that glides at a stretch from the starting point with a height of 11 m, shakes violently up, down, left and right, and runs through the forest approaching at a tremendous speed.
Unexperienced thrills are here!
[Thrill 1] Start from the height of the 3rd floor of the building! Dive into the forest with courage!
[Thrill 2] Once you start sliding, you can't stop !! Can you slide on a 250m long course without closing your eyes?
[Thrill 3] The rails stretched in the forest are endless in all directions! Can you withstand the thrill of shaking up, down, left and right !?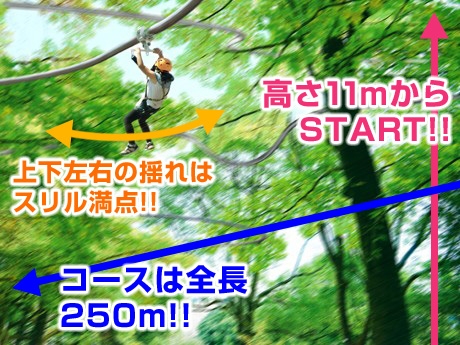 Name
Sky Rail Coaster ~ Windstorm ~
Location
Adventure Park
Time required
About 10 minutes
Price
Eligible to Passport Holders
Remarks
Target age: Elementary school students and above, under 65 years old
(When used by children under 12 years old, the consent form must be signed by a guardian (18 years old or older).)
Usage restrictions: Height 110 cm or more
: Weight less than 90kg (measured while using the facility)
* For your safety, you will be asked to wear a helmet, so please take off your hat.
* Not available to the following guests
・ If you have any concerns about your physical or health (especially heart disease).
・ Those who are not comfortable to move [Shoes and trousers are available for free rental]
・ If you do not agree to the prior explanation or consent form.

* The service will be suspended in case of bad weather.
* Please note that the final reception time may change depending on the congestion situation.