Attractions
Back to the list
Attractions
Eligible to Passport Holders
Experience the thrill
Enjoy nature
Enjoy with the family
Enjoy with 3 generations
Enjoy with friends
Enjoy with your partner
Adventure Park
Fee

Eligible to Passport Holders
スリル満点のぶら下がり式レールコースター誕生!
自然いっぱいの野外エリア・アドベンチャーパークに、レールコースターアトラクションが登場!
高さ11mのスタート地点から、一気に滑走し、上下左右に激しく体を揺らしながら、目前に迫る森の中を猛スピードで駆け抜ける1人乗りコースターアトラクションです。
Unexperienced thrills are here!
[Thrill 1] Start from the height of the 3rd floor of the building! Dive into the forest with courage!
[Thrill 2] Once you start sliding, you can't stop !! Can you slide on a 250m long course without closing your eyes?
[Thrill 3] The rails stretched in the forest are endless in all directions! Can you withstand the thrill of shaking up, down, left and right !?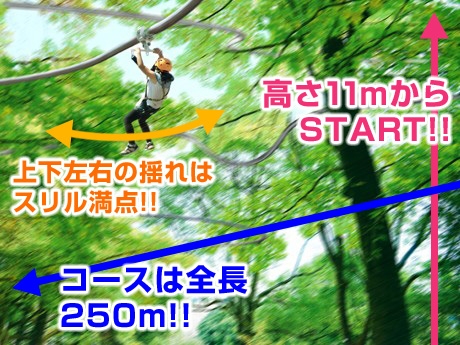 Name of facility
Sky Rail Coaster ~ Windstorm ~
Location
Adventure Park
Park holiday
Fee
Eligible to Passport Holders
Remarks
The following guests are not available.
・ Children under elementary school age.
・ Children under 110 cm tall.
・ When playing under 12 years old, the consent form must be signed by a guardian (18 years old or older).
・ Those who weigh 90 kg or more.
・ Please refrain from using this guests for customers over 65 years old.
・ If you have any concerns about your physical or health (especially heart disease).
・ Those who are not comfortable to move. (Not available for sandals, mules and skirts)
[Free rental of shoes and trousers available]
・ If you do not agree to the prior explanation or consent form.
* The service will be suspended in case of lightning, heavy rain, heavy fog, or strong wind.