Gourmet
Back to the list
Gourmet
Vehicles / Others
Tower City
World gourmet
Pizza and pasta
Seasonal menu
Outdoor & terrace available
~ 3,000 yen
Authentic Roman pizza and pasta shop baked in a kiln that incorporates Arita porcelain climbing kiln technology
Using the only pizza kiln in the world
The taste of pizza baked crisply at 400 degrees is with origami.

Every Monday to Friday from 15:00 to 17:00
Stopped serving pasta and appetizers
We will only serve pizza and drinks without permission.

guests apologize for any inconvenience caused and appreciate your understanding.

[Period] February 26, 2022-May 06, 2022
Three organic wines with a rich fruity and soft taste. [White wine] Pasqua Organic Chardonnay Grit ...

[Period] From November 06, 2021
Original wine to taste at Huis Ten Bosch! Enjoy it with your dishes. [Sparkling] Van Musu de ...
An exquisite pizza baked in a custom-made climbing kiln in the pottery town of Arita
In the restaurant, which has the image of an old pizza shop in Naples, Italy, the big pizza kiln that has introduced the technology of the climbing kiln custom-made in the pottery town of Arita stands out. Bake crisply in this unique kiln in the world.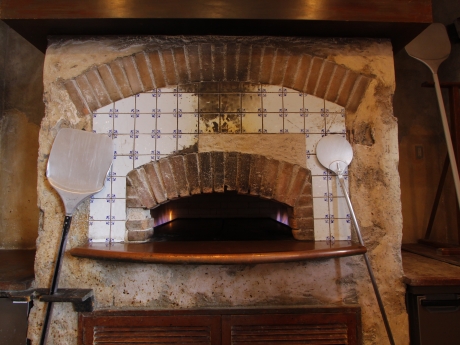 Name
Pinoccio
Location
Tower City Tower City 1st floor
Park holiday
None
Price
From 1,100 yen
Remarks
TripAdvisor [TripAdvisor]
Best gourmet restaurant in Sasebo
2nd place (as of August 1, 2021)
* Acquired TripAdvisor Certificate of Excellence 2017-2018!