Gourmet
Back to the list
Sausage & Sasebo Burger
Popular sausages, Sasebo burgers, various beers
Sausage Waag
Attraction Town
Sasebo Burger
Local specialty
Local production for local consumption gourmet
Outdoor & terrace available
Take-out
New!
~2,000 yen
Opening hours

1月18日~
11:00~18:00
30分前ラストオーダー
A shop where you can enjoy authentic sausages and beer at Sasebo Burger
Huis Ten Bosch 's popular "sausage" as a souvenir at the restaurant.
In the spacious and bright store, not only sausages and beer, but also Sasebo burgers made in the open kitchen
Introducing a new one.
【期間】2021年01月11日~2021年02月26日
ハウステンボス・スーツフェスティバル限定!そしてソーセージワーフ初のスイーツバーガーが登場! あつあつのラズベリーソー...
Discerning burger made by the restaurant
It has been loved as a sausage restaurant for many years, but Sasebo Burger has appeared with the same commitment of the restaurant.
An original sauce filled with Nagasaki Wagyu beef pate and chef's ideas in buns baked at the bakery in the hall.
In addition, you can enjoy it with your eyes in the open kitchen, and we also provide you with peace of mind.

In addition, the beer selection is the best in the restaurant.
You should be able to find the perfect beer for both "sausage" and "burger".

We look forward to your visit.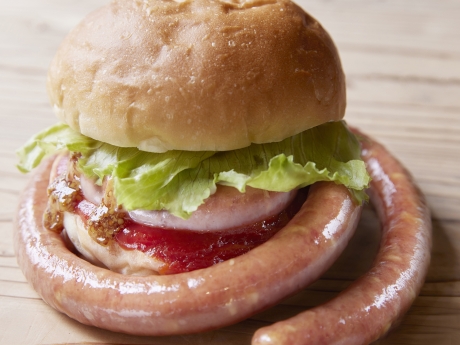 Name of facility
Sausage Waag
Location
Attraction Town
Opening hours
1月18日~
11:00~18:00
30分前ラストオーダー
定休日
Fee
From 550 yen
Remarks