Gourmet
Back to the list
Sasebo Burger
Popular sausages, Sasebo burgers, various beers
Sasebo Burger Certified Shop Sausage Waag
Gourmet
Attraction Town
Sasebo Burger
Local specialty
Local production for local consumption gourmet
Outdoor & terrace available
Take-out
~2,000 yen
photogenic
佐世保バーガーに本格ソーセージを味わえるお店
ハウステンボスのお土産として大人気の「ソーセージ」をレストランでも。
広く明るい店内で、佐世保バーガーやソーセージお楽しみいただけます。
Discerning burger made by the restaurant
It has been loved as a sausage restaurant for many years, but Sasebo Burger has appeared with the same commitment of the restaurant.
An original sauce filled with Nagasaki Wagyu beef pate and chef's ideas in buns baked at the bakery in the hall.
In addition, you can enjoy it with your eyes in the open kitchen, and we also provide you with peace of mind.

In addition, the beer selection is the best in the restaurant.
You should be able to find the perfect beer for both "sausage" and "burger".

We look forward to your visit.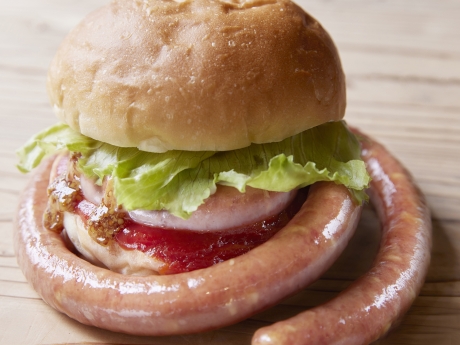 Name
Sasebo Burger Certified Shop Sausage Waag
Location
Attraction Town
Park holiday
Prices
250~
Remarks
「まん延防止等重点措置」適用に伴い、8/27~9/12の間、終日酒類の提供を休止しております。
※ラストオーダー19:30