Gourmet
Back to the list
Cheese dishes
Cheese fondue specialty store
Cheese Waag (2F)
Gourmet
Attraction Town
World gourmet
Local specialty
Seasonal menu
Children's menu available
photogenic
Budget

1,400 yen ~ (one pair)
If you want to eat cheese fondue, this is definitely recommended!
オランダのホールン市のチーズ計量所をモデルにつくられ、乳文化をテーマにした当館は、1階にナチュラルチーズ、チーズケーキをそろえたチーズショップなどがあります。
本格的なチーズフォンデュが楽しめる2階レストランでは、その他チーズなど乳製品を使ったメニューも人気です。
Cheese fondue from 2,000 yen
[2F restaurant]
Authentic cheese fondue recreation with authentic recipes
We have 3 types of fondue with different ingredients.
Wharf fondue 2,000 yen per person
Meat fondue ¥ 2,400 per person
Special fondue ¥ 2,800 per person
* Orders are accepted from 2 people.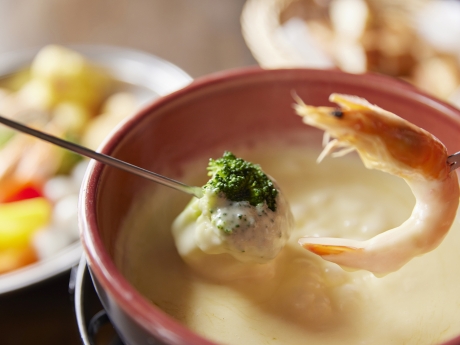 Name
Cheese Waag (2F)
Location
Attraction Town Cheese Waag (2nd floor restaurant)
Park holiday
None
Prices
1,400 yen ~ (one pair)
Remarks
※8/21~9/30 休店させていただきます
※1Fフードコーナー情報については「チーズワーフ(1F)」ページをご覧ください。