Gourmet
Back to the list
Cheese dishes
Cheese fondue specialty store
Cheese Waag
Attraction Town
World gourmet
Seasonal menu
Children's menu available
Outdoor & terrace available
Opening hours

【February】
<2F restaurant>
2/8 ~ 2/26 11: 00 ~ 20: 00 (19:30 last order)
2/27 11: 00-21: 00 (20:30 last order)
2/28 10: 00-20: 00 (19:30 last order)
* Intermediate closing 15: 00-17: 00
<1F Food Corner>
2/8 ~ 2/26 10: 00 ~ 18: 00 (17:30 last order)
2/27 10: 00-21: 00 (20:30 last order)
2/28 10: 00-20: 00 (19:30 last order)
[March]
<2F restaurant>
11: 00-20: 00 (19:30 last order)
* Sat, 3 / 21-3 / 31 11: 00-21: 00 (20:30 last order)
* Intermediate closing 15: 00-17: 00
<1F Food Corner>
10: 00-18: 00 (17:30 last order)
10: 00-21: 00 (20:30 last order)
* Sat, 3 / 21-3 / 31 10: 00-20: 00 (19:30 last order)
If you want to eat cheese fondue, this is definitely recommended!
Made Dutch Hoorn City of cheese weighing stations in the model, the hotel was a milk culture-themed, limited time of souffle pancake shop on the first floor, natural cheese, cheese aligned cheese cake Shop and so on.
At the restaurant on the 2nd floor where you can enjoy authentic cheese fondue, other menus using dairy products such as cheese are also popular.
[Period] January 11, 2021 to February 26, 2021
The sweets recommended by the staff, sandwiched with carefully selected mascarpone and fresh fruits. Limited number product, so ...
[Period] January 11, 2021 to February 26, 2021
Pancakes baked with plenty of sun eggs. Please enjoy with vanilla ice cream. Limited number so be quick ...
Cheese fondue 2,000 yen
[2F restaurant]
Authentic cheese fondue recreation with authentic recipes
We have 3 types of fondue with different ingredients.
Wharf fondue 2,000 yen per person
Variety fondue ¥ 2,150 per person
Meat fondue ¥ 2,400 per person
* Orders are accepted from 2 people.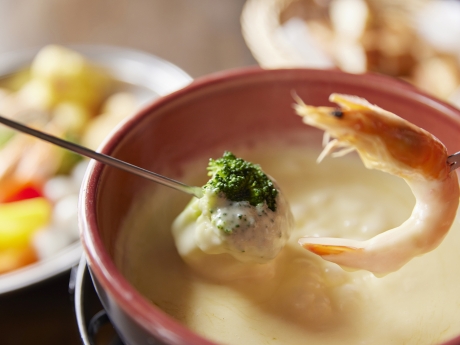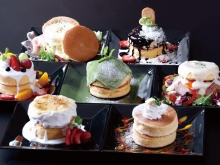 Souffle pancake 700 yen ~
[1F Marched Souffle]
We have renewed the menu in the food corner and are open as a souffle pancake specialty store for a limited time.
Name of facility
Cheese Waag
Location
Attraction Town Cheese Waag (1st floor food corner, 2nd floor restaurant)
Opening hours
【February】
<2F restaurant>
2/8 ~ 2/26 11: 00 ~ 20: 00 (19:30 last order)
2/27 11: 00-21: 00 (20:30 last order)
2/28 10: 00-20: 00 (19:30 last order)
* Intermediate closing 15: 00-17: 00
<1F Food Corner>
2/8 ~ 2/26 10: 00 ~ 18: 00 (17:30 last order)
2/27 10: 00-21: 00 (20:30 last order)
2/28 10: 00-20: 00 (19:30 last order)
[March]
<2F restaurant>
11: 00-20: 00 (19:30 last order)
* Sat, 3 / 21-3 / 31 11: 00-21: 00 (20:30 last order)
* Intermediate closing 15: 00-17: 00
<1F Food Corner>
10: 00-18: 00 (17:30 last order)
10: 00-21: 00 (20:30 last order)
* Sat, 3 / 21-3 / 31 10: 00-20: 00 (19:30 last order)
Park holiday
None
Fee
From 1,400 yen
Remarks