HUIS TEN BOSCH Visitor guide
Guests with Additional Needs with disabilities
Wheelchair rental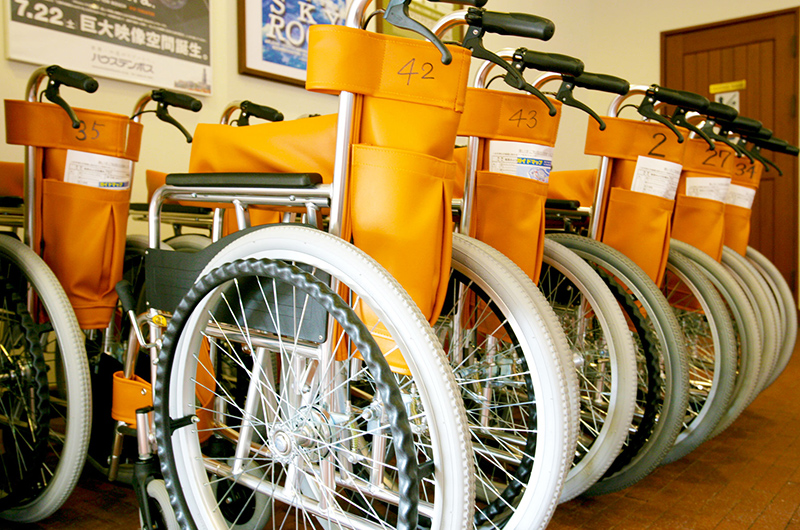 Wheelchairs are available at the Immigration Information Center and Central Information Center. Please make a wheelchair reservation by 17:00 the day before.
Reservation destination
Huis Ten Bosch Accommodation Navi Dial
*

Press ① when connected to the navigation dial.
Electric cart rental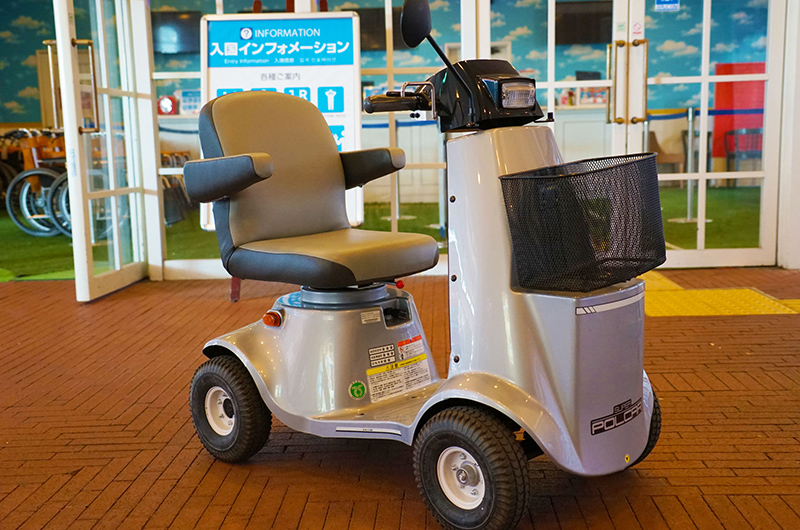 Electric cart rental is also available. It is easy to operate and you can enjoy Huis Ten Bosch
Please make a reservation for the electric cart by 17:00 the day before.
Fee
* A

separate "security deposit" of 1,000 yen will be accepted.
Reservation destination
Huis Ten Bosch Accommodation Navi Dial
*

Press ① when connected to the navigation dial.
| Name of facility | Location | time |
| --- | --- | --- |
| Immigration Information Center | Welcome gate (immigration) | 30 minutes before opening to closing |
* The

number of units (2 units) is limited.

*

Available in more than 18-year-old long time difficult to walk guests in, who understand that the pledge guests let me limited to.

*

Not available in rainy weather.

*

Rental is not available when fireworks are held.
Public telephone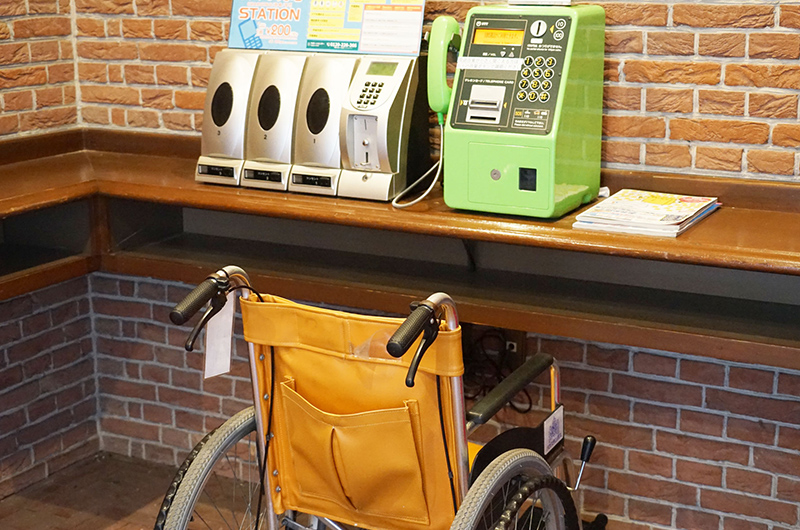 Wheelchair-accessible payphones are available at the Wellcome Gate (immigration).
Wheelchair / ostomate restroom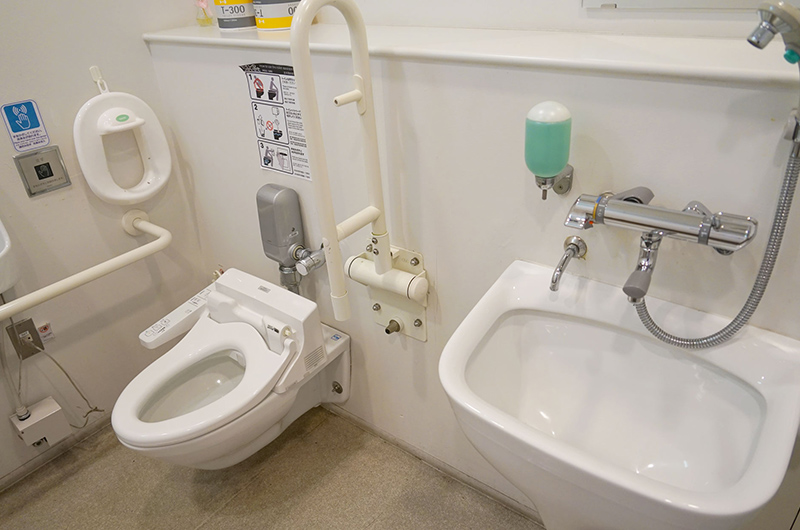 Wheelchair-accessible restrooms are located inside and outside the venue. Of these, 3 cots are installed. In addition, there are two ostomate-friendly restrooms in the venue.
Area name
Location
Welcome gate (immigration)
Welcome gate (immigration)
Next to Canal Cruiser platform
Next to Schiphol entrance
Schiphol exit diagonally in front
Next to the parking lot management center
Attraction Town
Cheese Waag * 120 x 60 cm size bed installed * Ostomate compatible
Super Trick Art * 120 x 60 cm size bed installed
Art Garden
Next to the circle * Compatible with ostomate
Amsterdam City
The Castle of Wine next to ※ 150 × 60cm size bed in
Tower City
Behind Champon "Gokuu"
Next to Canal Cruiser platform
Harbor Town
Next to the Hananoya
Harbor Town In front of the bus stop
Palace Huis Ten Bosch
Palace Huis Ten Bosch
Facilities with wheelchair-accessible elevators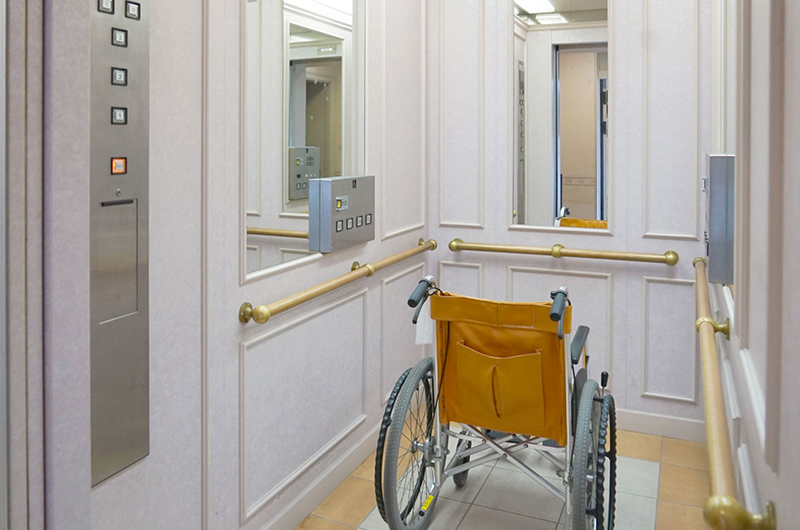 Elevators are installed at the following facilities. Please tell the staff.
Facility
Teddy Bear Kingdom: Welcome Gate (Immigration)
Super Trick Art: Attraction Town
Glass Museum: Amsterdam City
Palace Huis Ten Bosch: Palace Huis Ten Bosch
Restrictions on the use of on-site facilities
If you are using a wheelchair, please contact the staff when using the following.
A facility where you can enjoy everything in a wheelchair
Name of facility
Contents of usage restrictions
Teddy Bear Kingdom
Please use the elevator.
Zipangu Detectives
Horizon Adventure Plus
MUSE HALL
kirara
Everyone's dinosaur
Super Trick Art
Please use the elevator to the 2nd floor.
Glass Museum
Please use the elevator to go upstairs.
Depending on the size of the wheelchair, it may not be available.
Domtoren Observatory
Porcelain Museum
Game Museum
Canal Cruiser
You can board up to 4 cars per ship.
Park Bus (bus in the hall)
Facilities with some restrictions for safety
Area name
Contents of usage restrictions
Carousel
Please consult with the staff.
Healing lounge
You will experience it in a wheelchair space near the entrance.
There is no sofa, so you can listen to music through headphones while in a wheelchair.
Wheelchair-accessible vehicle (bus with slope board)
The Park Bus that runs inside the venue and the hotel bus that runs between immigration and the hotel are equipped with slope boards at the entrance and exit.
Discount system for people with disabilities
Discounted rates for people with disabilities
You can check the disability discount rate on the ticket search page.
Please post the disability certificate.
guests with severe disabilities (class 1 or class A certified in the "Handicapped Person's Handbook") will receive the same discount (1 person per person with severe disabilities).
If the number of people who are cared for (accompanied) exceeds 10, a group discount will be applied.
(Excluding tickets for which no group discount is set.)
Accommodation in these hotels guests in the case of a ticket of admission from the night Official Hotels does not offer the purchase of re-admission passport.
(Henn Na Hotel Huis Ten Bosch, Watermark Hotel Nagasaki / Huis Ten Bosch, Hotel Okura Jr Huis Ten Bosch, Hotel Nikko Huis Ten Bosch)
When purchasing senior tickets for each type of ticket, please also present an ID card (license, health insurance card, etc.) that can confirm your age.
On December 31st, the admission fee system will differ depending on the date of the Countdown
About visiting in a group
If you are visiting as a group, please submit the following documents when making a reservation.
Exemption application form (please enter the name of the organization, contact information of the representative, date and time of admission, number of people admitted)
Attendee list (please enter the address, name, date of birth, degree of disability, and number of caregivers)
Please be assured that Huis Ten Bosch offers a variety of services to ensure that even physically handicapped customers can spend their time comfortably.
---
Contact Us
Huis Ten Bosch General Information Center
Reservation
Huis Ten Bosch General Reservation Center
When you are connected to the navigation dial, press ①