Shopping
Back to the list
Selling products unique to Nagasaki, Arita ware, Hasami ware
Make your home time more enjoyable ♪
Castelo de Seafood and Porcelain
Shop
Kyushu-specific
Sweets
Miscellaneous goods/stationery
Harbor Town
Products handled

Nagasaki products, local sake, miscellaneous goods, Hasami ware, Arita ware
We have famous products from Arita, the birthplace of porcelain, Hasami ware from Nagasaki, and cute miscellaneous goods !!
We have a wide variety of stylish Arita kilns such as cute miscellaneous goods and Hasami ware from Nagasaki that are great as souvenirs, Sanemon from the ceramic town "Arita", Koransha, and Fukagawa Seiji.
Items to make time with you and your loved ones more enjoyable. Please find your favorite dish !!
[Period] From December 11, 2020
当店で取り扱っております有田焼も他商品と同様、特典が受けられるようになりました。 バースディシールをお持ちのお客様は2...
疫病退散グッズあります!!
「疫病が流行ったら私の姿を描き写した絵を人々に早々に見せよ!」 そうして人々を疫病から守ったアマビエさまのグッズを販売してます!
ストラップやブレスレット、有田焼のマグカップや湯呑など。
有田焼の除菌用スプレーボトル・ソープボトルも販売しています!!
長崎の花や建物をデザインに含めた布マスクも大人気です♪
詳しくは「ラインナップ」⇒「今だからおすすめ!」を見てください!!
A wide selection of grilled foods from "Arita," the birthplace of Japanese porcelain!
We have a large selection of products from Arita's famous kilns such as Koransha and Fukagawa Seiji, as well as products from Arita's representatives, Imaemon Pottery, Kakiemon Kiln, and Genemon Kiln.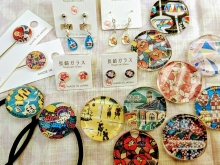 It's so popular!
"Nagasaki Glass" with a design of Nagasaki.
It's easy price, it doesn't take up much space because it's small, and it's cute!
Limited to Nagasaki Prefecture, Huis Ten Bosch is a product that is only available at our shop.
We also have a lot of other miscellaneous goods unique to Nagasaki !!
It's pretty good! The staff has already arrived the sake "Philand Yumemeishu"!
The staff at the hotel restaurant [Trottiner] recommended that it be "quite good!", And when I drank it, it was "seriously good!" Sake.
The blue bottle and white vanity case are also quite fashionable ♪ It is a perfect gift item !!
Introduced in the lineup for details!
長崎県の特産品・波佐見焼も入荷!
長崎県と言えば「波佐見焼」!高級感のある有田焼とは違い、シンプルなフォルムとデザインが特徴です。                         
お値段もかなりリーズナブル。纏め買いにもおススメです!!
| | |
| --- | --- |
| Name of facility | Castelo de Seafood and Porcelain |
| Location | Harbor Town |
| Park holiday | |
| Remarks | |