Attractions
Back to the list
Attractions
Numbered ticket distribution target
Eligible to Passport Holders
Usage restrictions
Experience the thrill
Enjoy nature
Enjoy with the family
Enjoy with friends
Enjoy with your partner
Adventure Park
Prices

Eligible to Passport Holders
An aerial adventure with a height of 9m!
A thrilling adventure course where you can challenge various elements (obstacles) stretched up to a height of 9m from the start to the goal.
Clear the great adventure with wisdom and courage!
The maximum height is 9m! A thrilling aerial adventure!
Overcome various obstacles such as suspension bridges and rope nets with wisdom and courage!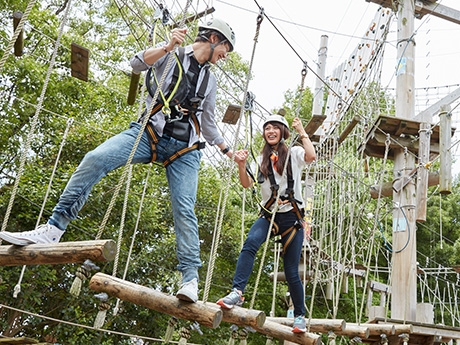 Name
Sky Castle
Location
Adventure Park Near the entrance
Time required
About 20 minutes
Prices
Eligible to Passport Holders
Remarks
利用制限
・混雑時には整理券を配布する可能性がございます。
・小学生未満のお子様はご利用いただけません。
・12歳以下の小学生のお子様は、保護者(中学生以上)とご一緒に遊んで頂く必要があります。
・12歳以下が遊ばれる際、同意書に保護者(18歳以上)のサインが必要です。
・身長110cm以下の方はご利用いただけません。
・エキスパートコース(6・9m)におきましては、一度チャレンジコースを体験していただいたお客様に限らせていただきます。また、65歳以上のお客様はご利用をご遠慮いただいております。
・身体・健康面(特に心疾患)に関する不安事項がある場合は、ご利用いただけません。
・動きやすい服装でない方はご利用いただけません。(サンダル、ミュール、スカートでの利用はできません)
受付にてシューズ、ズボンの無料レンタルもございますので、お声掛けください。
・事前説明や同意書に同意していただけない場合は、ご利用いただけません。

※エキスパートコースは営業終了1時間前までの受付となります。

※混雑状況により最終受付時間が変動する可能性がありますので予めご了承下さい。