Attractions
Back to the list
Attractions
Eligible to Passport Holders
Rainy day OK
Available for pregnant women
Wheelchair accessible
Enjoy with the family
Enjoy with 3 generations
Attraction Town
Price

Eligible to Passport Holders
Flood experience using 800 tons of real water !!
By making full use of the latest digital technology and special effects technology for power-ups of sound and lighting and conventional production, each audience member can experience the same experience and excitement as the main character.

A powerful experience theater where you can experience the violence of the great flood that actually occurred in the Netherlands. Fog, lightning, waves, heavy rain, and tornadoes are generated by making full use of special equipment, and 800 tons of real water swallows the audience seats.
Dutch legend that appeals to the importance of water
The legend of the sea spirit "Ran" that is handed down in a certain town in the 17th century Holland. An old man tells his grandchildren an old story and preaches the importance of water. However, mischievous children treat water poorly. Then, that night, the sea spirit "Orchid" appeared ... Children have terrifying dreams. The theater is filled with fog, loud lightning roars, and the climax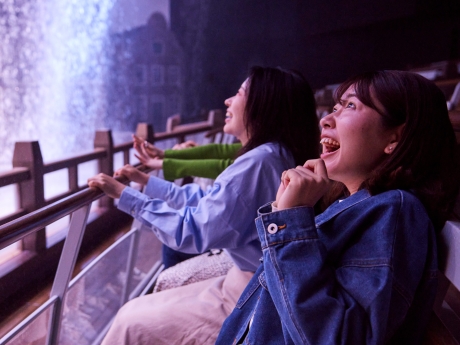 Giant horizont (stage set)
A natural threat experienced by the Dutch people, recreation a huge horizont (stage set) with a height of 18m and a width of 52m. It uses a diorama that realistically recreation Dutch landscape, powerful images, sound equipment, and actually 800 tons of fresh water.
| | |
| --- | --- |
| Name | Horizon Adventure Plus |
| Location | Attraction Town |
| Time required | About 15 minutes |
| Price | Eligible to Passport Holders |
| Remarks | |