HUIS TEN BOSCH Visitor guide
Information of Parking lot
The entrance is different for those who come on a day trip and those who stay at the hotel.
日帰りでお越しのお客さま
Vehicle type
General charge
Parking fee calculation
Vehicle type example
Vehicle size
Standard-sized car
800 yen / time
Opening Times day, one charge from warehousing to warehousing
(If parking is after 24:00, the next day's fee will be collected)

Standard-sized car
Small camper
Chartered taxi
Moped bike

Length 5.0m x Width 2.0m x Height less than 2.3m
中型車
1,500 yen / time * 1

Small chartered bus
Minibus
Medium-sized camper * 2

Length 7.0m x Width 2.5m x Height less than 2.4m
大型車
2,500 yen / time

Large chartered bus
Medium-sized chartered bus
Large camper * 2

Length 12.0m x Width 2.5m x Height 2.5m or more
Guest priority parking lot
2,000 yen / 24 time
Charges up to 24 time after receipt, 1,000 yen will be added in 12-time

Priority is given to ordinary cars staying at hotels in the hall
Other users can park if there is a vacancy

(Hotel guests in the venue must present their parking ticket to the front desk of each hotel. Free processing will be provided.)

Length 5.0m x Width 2.0m x Height less than 2.3m
Parking fees are subject to change on special days such as large fireworks. Please note.
* 1 For

parking lots for large and medium-sized vehicles, 2,500 yen will be charged at the time of departure. When using a medium-sized vehicle (5m or more and less than 7m), please bring your parking ticket and vehicle verification to the immigration information before leaving the vehicle. We will process a discount of 1,000 yen.

* 2 If

you are coming by a medium-sized or large-sized camper, please use the bus parking lot.
安全上の注意
Please follow the instructions of the staff and the signs inside the parking lot and at the entrance.
車を運転する際には、歩行者に十分ご注意ください。
駐車場内を歩く際には、車には充分ご注意され、指示された歩道をお歩きください。また、小さいお子さまは、保護者の方が同伴してください。
駐車場のご利用にあたって
We are not responsible for any damage to your vehicle or theft of your luggage due to an accident or disaster in the parking lot.
We may refuse to park if you are carrying something that seems dangerous or if we judge that there is a problem in management.
In the parking lot, you cannot do business, speech, promotion, donation, signature campaign, etc. without permission.
The parking lot will be available until the end of the parking lot Opening Times Parking and in-car accommodation (including campers) are not allowed beyond Opening Times
電気自動車のご利用について
Huis Ten Bosch has a charging spot for electric vehicles.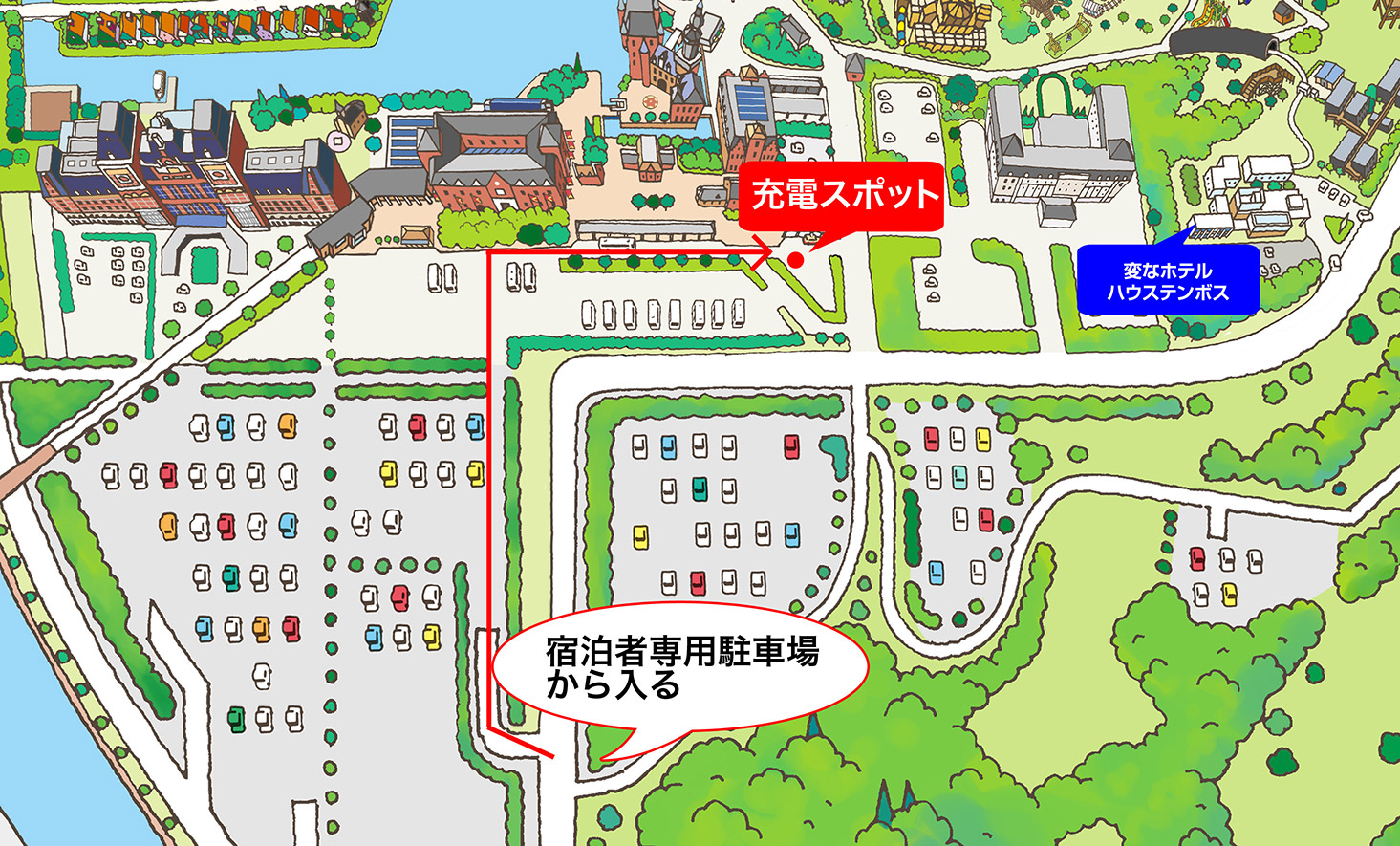 設置内容
普通充電器:2台
急速充電器:1台
Usage time
9: 00-21: 00
* Vehicles can be moved between 21:00 and 9:00 the next morning.
施設利用料
充電料が発生いたします。
※急速充電器での充電が完了した場合は速やかに車の移動をお願いいたします。
場内ホテルにご宿泊のお客さまへ
駐車区画につきましては、第1駐車場内の宿泊者優先駐車区画(後払い)をご利用ください。
また、同駐車場が満車の場合で他の駐車区画(前払い)をご利用の際は、各ホテルフロントへ領収証をご提示ください、利用料金の払戻しを行います。
場内ホテル
Hotel Europe
Hotel Amsterdam
Forest Villa
Henn Na Hotel Huis Ten Bosch
Watermark Hotel Nagasaki Huis Ten Bosch
*

Hotel Okura Jr Huis Ten Bosch and Hotel Nikko Huis Ten Bosch should come directly to the hotel.
ホテル宿泊者駐車場までのルート案内