HUIS TEN BOSCH Visitor guide
FAQ
営業時間について
Huis Ten Bosch is open all year round. Opening Times vary depending on the season, so please check before you go out. It should be noted, Huis Ten Bosch of Opening Times and, stadium shop, facilities, vehicles, such as the hotel Opening Times will vary. In addition, some stores and facilities may be closed or closed. For details, please see the reference URL.
guests visiting on a day trip]
Huis Ten Bosch business start of time from 30 minutes before the Huis Ten Bosch admission deadline of time parking entrance to is possible. You can leave until one time after the closing time Huis Ten Bosch Special days such as fireworks dates and Countdown are subject to change. Harbor Town (Harbor Zone) is based on Opening Times.

guests staying at the following hotels]
* Hotel Europe, Hotel Amsterdam, Forest Villa, Henn Na Hotel Huis Ten Bosch, Watermark Hotel Nagasaki Huis Ten Bosch The guest parking lots of the above five hotels are available time There is no parking fee during your stay. However, please present your parking ticket at the front desk of your hotel and process it free of charge. For details, please see the reference URL.
When do you enter the parking lot?
Parking entrance possible of the time, the Golden Week, the Bon Festival, with the exception of the special date such as the New Year, usually business start time from 30 minutes before, Huis Ten Bosch entrance end time has been up to. Harbor Town (Harbor Zone) is based on Opening Times.
Return time is Opening Times, but I'm likely past, Is it possible to exit?
Of course it's okay. If you leave the Farewell Gate general store "Schiphol" after it is closed, you can return from the entrance on the left side of Schiphol. Please follow the signs around the departure gate to leave.
About admission ticket
Three passports (1 DAY Park Ticket, after 3 passport, after 5 passport) for admission time, limited-time tickets, Official Hotels for staying guests There is also a special ticket. Please choose according to your stay time and your purpose. For details, please see the reference URL.
Admission tickets are not sold
Do you have a great admission ticket?
Huis Ten Bosch Hayatoku (early-bird discount fares) Ticket" that you can purchase in advance at convenience stores, "Student Discount 1 DAY Park Ticket" for students, and birthday discounts. For details, please see the reference URL.
ハウステンボス公式ホームページからWEBチケット購入しました。QRコード取得方法がわかりません。
ご予約時に届いた【お申込み完了のお知らせ】のメールにある「お受取方法」のURLへアクセスしてQRコードを取得してください。もしくは下記のURLよりご確認いただけます。
携帯の機種やブラウザによってはうまく表示できない場合がありますので、その場合は下記のアプリからお試しください。
iPhoneの場合→Safari(サファリ)
Androidの場合→Google Chrome(グーグル・クローム)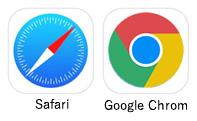 2019 年10 月1 日から新たな入場区分として「おもいやり」を新設し販売をしております。
①65歳以上の方(ご本人のみ)
②妊婦の方+同伴者1名
③3歳以下のお子さまをお連れの方(同伴者2名)
※同伴者:例) パパとママ、ママとおばあちゃん ・・・
④ペット連れの方(1頭につき1名)
※おもいやり区分のチケット購入には免許証、健康保険証、母子手帳などの身分証のご提示が必要となりますのでご持参下さい。
For those who have a disability certificate, discounts will be applied to both individuals and groups. guests who has a "Disability Certificate" (physical disability and mental disability) nursing certificate issued by the local government.
Please be sure to bring your disability certificate with you when you purchase your admission ticket.
It cannot be purchased online or at convenience stores. Purchase by presenting your notebook at the entrance window of the local Huis Ten Bosch
被爆者健康手帳をお持ちの方も手帳を提示いただきましたらご本人様に限り障がい者割引同等の料金を適用いたします。
guests with severe disabilities (class 1 or class A certified in the "Handicapped Person's Handbook") will receive the same discount (1 person per person with severe disabilities).
オフィシャルホテル専用チケットは、事前購入できますか。
オフィシャルホテルへのご宿泊確認が必要となりますので、ハウステンボス発券所窓口にてご購入いただいております。但し、大手旅行代理店にて事前のご購入も可能です。その際には、利用日当日に、ハウステンボス発券所窓口でのチケットへのお引き換えが必要となります。
In addition, Official Hotels (Hotel Okura JR Huis Ten Bosch, Hotel Nikko Huis Ten Bosch, Watermark Hotel Nagasaki / Huis Ten Bosch) or an accommodation certificate issued at the hotel front desk.
変なホテル ハウステンボスにおきましては、書面確認はございません。
直営ホテル(ホテルヨーロッパ、ホテルアムステルダム、フォレストヴィラ)にご宿泊いただくお客さまは、1日分の入場券をご購入いただくと、ご滞在日数分の翌日1DAYパスポートをプレゼントいたします (2021年10月1日以降、翌日1DAYパスポートの付いていない宿泊プランをご利用のお客様は対象外となります。)。
ハウステンボス公式WEBサイトからWEB購入や各コンビニ設置の端末・プレイガイド等での事前ご購入が可能です。詳しくは参考URLをご覧ください。
Target stores: Lawson, FamilyMart, Seven-Eleven, Circle K Sunkus, Ticket Pia, E Plus
入場券はクレジットカード・電子マネー・QRコード決裁で買えますか?
入場券購入の際には、下記のクレジットカード・電子マネー・QRコード決裁がご利用いただけます。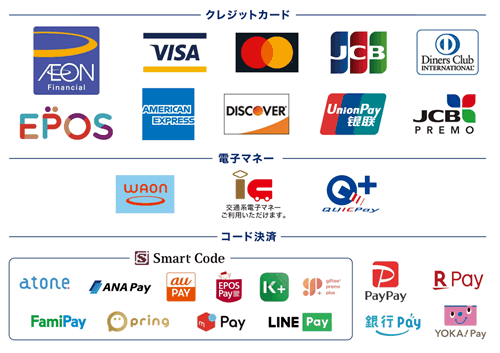 Can I buy an admission ticket with an amusement park ticket or a gift card?
The following gift cards can be used when purchasing an admission ticket.

いったん退場して、その日のうちにもう一度入場することはできますか?
Re-entry is possible. You will need to show your ticket, so please be sure to bring it with you.
When re-entering, please stamp the re-entry stamp at the exit of the general shop (Schiphol) and exit by the admission deadline time (before closing 1 time). Also, if you leave by car and re-enter, you will be charged a parking fee each time you use it.
"Huis Ten Bosch admission discount ticket" can be used at the Huis Ten Bosch Other shareholder coupons cannot be used to purchase admission tickets.
Where can I buy an admission ticket if I enter Huis Ten Bosch by high-speed boat? Also, what are some ways to get to the Huis Ten Bosch welcome area without purchasing an admission ticket?
If you Huis Ten Bosch after disembarking at the Huis Ten Bosch dock (Marine Terminal), please purchase at the Harbor Gate, which is about a 3-minute walk on your right after leaving Marine Terminal
Also, if you do not have Huis Ten Bosch admission ticket, you will not be able to board the Park Bus
If you are heading to the welcome area via Huis Ten Bosch
Please check in advance as there are paid setting dates in the harbor zone.
お荷物について
There are eight coin lockers in the venue, including the Wellcome Gate (Welcome Gate), Canal Station Welcome, Attraction Town, Canal Station Tower City, and Marine Terminal There is also temporary baggage storage (outside the departure area), so please use it.
Please feel free to use the Takkyubin reception desk on the exit side of the Farewell Gate "Schiphol Amsterdam City "The Castle of Cheese (Please note that the usage time is different)
Huis Ten Bosch This service accepts the movement of luggage within the designated section. (Paid)
What is Huis Ten Bosch?
"Huis Ten Bosch" means "forest house" in Dutch. Huis is the house, bosch is the forest, and ten is the preposition. It was named after the permission to faithfully recreation the Dutch palace "Palace Huis Ten Bosch".
How big is Huis Ten Bosch?
The area of Huis Ten Bosch is 152 hectares (1.52 million square meters). Specifically, it is 33 pieces of Tokyo Dome, which is about twice as large as Tokyo Disneyland.
ホームページについて
個人のホームページからリンクを貼ってもいいですか?
You are free to link. However, please observe the following precautions.
As a general rule, please link to the top page (https://www.huistenbosch.co.jp/).​
リンクに関するお願い
ハウステンボスの信用を損ねたり、不利益となる内容を含んだホームページからのリンクはお断りさせていただきます。
ハウステンボスのロゴやマークは商標登録されています。ご使用を希望される場合は、ご意見フォームよりご連絡ください。
Please do not use the link itself as a means of business.
フレームリンクなどの方式で、弊社の制作したコンテンツであることが不明確になるリンクはご遠慮ください。
その他ご不明な点がございましたら、ご意見フォームよりご連絡ください。
ホームページに使われている画像をダウンロードしてもいいですか?
ハウステンボスホームページに掲載している画像を、ダウンロードなどにより二次使用されることは固くお断り申し上げます。ハウステンボスの景観写真をホームページや印刷物でご使用になる場合は、事前に申請をしていただく必要がありますので、ご利用の主旨を明記の上、ご意見フォームよりご連絡ください。
商用目的での使用を希望される場合は、下記までお問い合わせください。
商用目的の映像・画像使用に関するお問い合わせ
Huis Ten Bosch Co., Ltd. Headquarters Sales Office
TEL: 0956-27-0311
ハウステンボスのメールマガジン登録を解除したいのですが。
次のページにログインいただき停止のお手続きをお願いいたします。
ご登録情報の変更の手続き
メールマガジン会員を退会したのに、まだメールが配信されています。
It may take up to 2 weeks for the withdrawal registration to be reflected.
Also, are you registered with an email address other than the one you remember, or are you using a forwarded email address? Newsletter incoming address, and then cancel the membership again at that address. If it is still delivered after that, Huis Ten Bosch General Information Navi Dial".
Other