HUIS TEN BOSCH Visitor guide
About zones
Huis Ten Bosch is divided into two areas: theme park zone and harbor zone (Harbor Town, Forest Villa
ハーバーゾーン入場料
2019年10月1日~ハーバーゾーンは入場無料となりました。(花火開催日を除く)
※パスポート対象施設は、パスポートをお持ちの方のみ利用が可能です。
花火開催日はハーバーゾーン入場料2,000円(一律料金)が必要となります。
花火開催日でも、下記の場合ハーバーゾーン入場料金は不要です(特殊日を除く)。

当日有効のハウステンボス入場券類をお持ちの方。
ハーバータウンに立地するホテルにご宿泊の方(対象ホテル:ホテルヨーロッパ、フォレストヴィラ、 ウォーターマークホテル長崎・ハウステンボス)
ホテル内レストランをご利用の方
※2022年10月8日(「九州一大花火まつり」開催日)はハーバーゾーンのみの入場はできません。各種入場パスポートが必要となります。
※12月31日はカウントダウン専用入場パスポートが必要となります。
ゾーンの区分け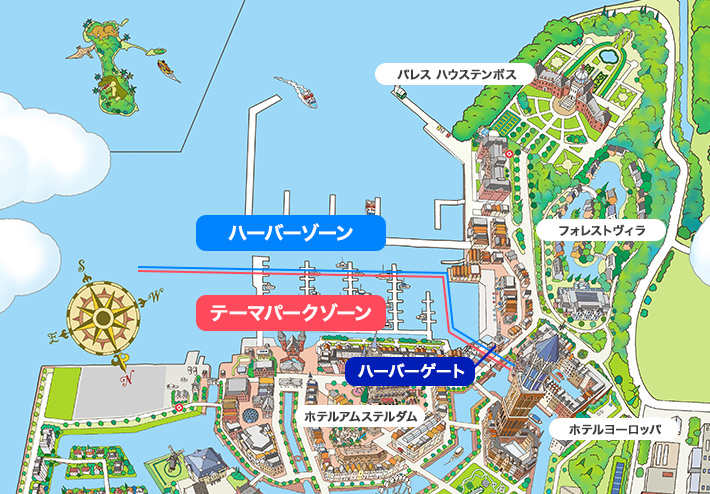 ホテルヨーロッパ正面の「ハーバーゲート(南ゲート)」から南側のエリアになり、マリンターミナル、ホテルヨーロッパ、フォレストヴィラ、パレス ハウステンボスのエリアが対象となります。
About using the harbor zone (Harbor Town, Forest Villa
Opening hours
テーマパークゾーンの営業時間と同じ時間となります。
Parking Lot
Visiting Harbor Zone by your car, we recommend you to park at West Gate Parking. however if it's full, please use "Parking 1".​ ​
ウエストゲート駐車場について
Location
ホテルヨーロッパ裏手「ウエストゲート」横
※ホテルヨーロッパまで徒歩2分
駐車可能台数
35台(普通乗用車のみ)
※満車の場合は入国駐車場をご利用ください
利用可能時間
開園時間と同じ。
Price
1,000円/一般及び会員共に1回
レストランを日帰りでご利用されるお客様
guests De Admiraal", "Kissuitei", "Harbor Town (the town of the port Trottiner) on a day trip can park for free in the harbor zone by advance reservation. You can use the parking lot.
お車でご利用ご希望のお客様は、事前にレストランの予約が必要となります。ご予約の際に、お車のナンバーを必ずお申し付けください。
*

駐車台数には限りがございますので予めご了承ください。

*

Please refer to the latter part for the means of transportation to the harbor zone when using the Immigration No. 1 Parking Lot.
ハーバーゾーンまでの交通手段
路線バスのご利用について
The bus stop closest to the harbor zone is "Huis Ten Bosch West Gate". (Directly from Saihi Bus / Sasebo City)
Huis Ten Bosch Wellcome Gate (immigration), please use the bus stop No. 6 time (varies depending on the day of the week). (The fare is 150 yen, the time required is about 5 to 6 minutes)
タクシーをご利用の場合
We are always Huis Ten Bosch Wellcome Gate (immigration) taxi stand. The fee is about 800 yen. You can take a taxi to the center of the harbor zone.
徒歩の場合
Please follow the outer road of Huis Ten Bosch (sidewalk along the prefectural road) and enter from the west gate of Huis Ten Bosch (The time required is about 20 minutes and about 2 km).
About admission with pets
Pets are welcome in the harbor zone alone. Please spend time with cute pets in the streets of Europe. Admission is free.