---
時間/20:30~20:45(予定)
打上場所/ハーバータウン 海上
---
冬の夜空に煌めく
幻想的な花火とともに
特別なひとときを。
白や青を基調とした
煌びやかな花火が冬の夜空を彩る
冬のヨーロッパ音楽とともに打ち上がる
花火でより感動的な世界へ
※image
---
​
Enjoy viewing powerful fireworks from your reserved seat.
---
花火特別観覧席
で感動を
---
Fee/¥1,000
Camera seat 2,000 yen
---
---
観覧場所/マリンフロント会場(ホテルデンハーグ前)I-18
開場時間/19:30
---
All seats are reserved seats. Seats will be automatically allocated in the order of purchase, so you cannot choose your seat.
The Fee applies for ages 4 and older.  Except a lap child, seat reservation will be required in case children under 4 year-old need a separate seat. 
Please note that you cannot cancel or change after purchase.
Web tickets can be purchased until 12:00 the day before.
In addition to the viewing seat fee, either Huis Ten Bosch Park Admission Ticket or Harbor Zone Only Admission fee of 2,000 yen (flat rate) will be required.
---
---
After watching powerful fireworks display, 
enjoy the afterglow in your room.
---
Enjoy Hotel Stay by Booking Fireworks Special Seats Package. 
​
---
観覧場所/マリンフロント会場
(ホテルデンハーグ前)I-18
開場時間/19:30
All seats are reserved seats
Fireworks Special seats will be arranged for the day of check-in.
Fireworks Grandstand tickets with seating number will be handed out upon checking-in. (Including co-sleeping child, Child Grandstand Ticket will be available at JPY1,000/per child. Please notify us when booking Hotel)
---
---
---
Enjoy fireworks viewing from a private space.
Recommended for those with small children.
---
Guest room with fireworks view.
Enjoy the fireworks in your room.
---
Viewing place / Hotel guest room
Some fireworks, such as set fireworks, cannot be viewed. In addition, you cannot enjoy the interlocking with music.
---
---
---
---
 Huis Ten Bosch`s #1 hotel.
 You can experience  extraordinary. 
Hotel Europe
Price

37,200円~
※2名1室 お1人様あたり
---
---
Located in the heart of Huis Ten Bosch. 
Gorgeous in-park hotel.
Hotel Amsterdam
Price

37,400円~
※2名1室 お1人様あたり
---
---
Wrapped in a comfortable tranquility
Oceanfront hotel
Hotel Den Haag
Price

28,600円~
※2名1室 お1人様あたり
---
---
---
Alongside perfect meal,
Enjoy fireworks from a special seat on the boat.
---
2/10(土)、11(日)限定
花火観覧クルーズで
船上から楽しむ
---
Meeting Spot / Harbor Town Marine Terminal I-15
---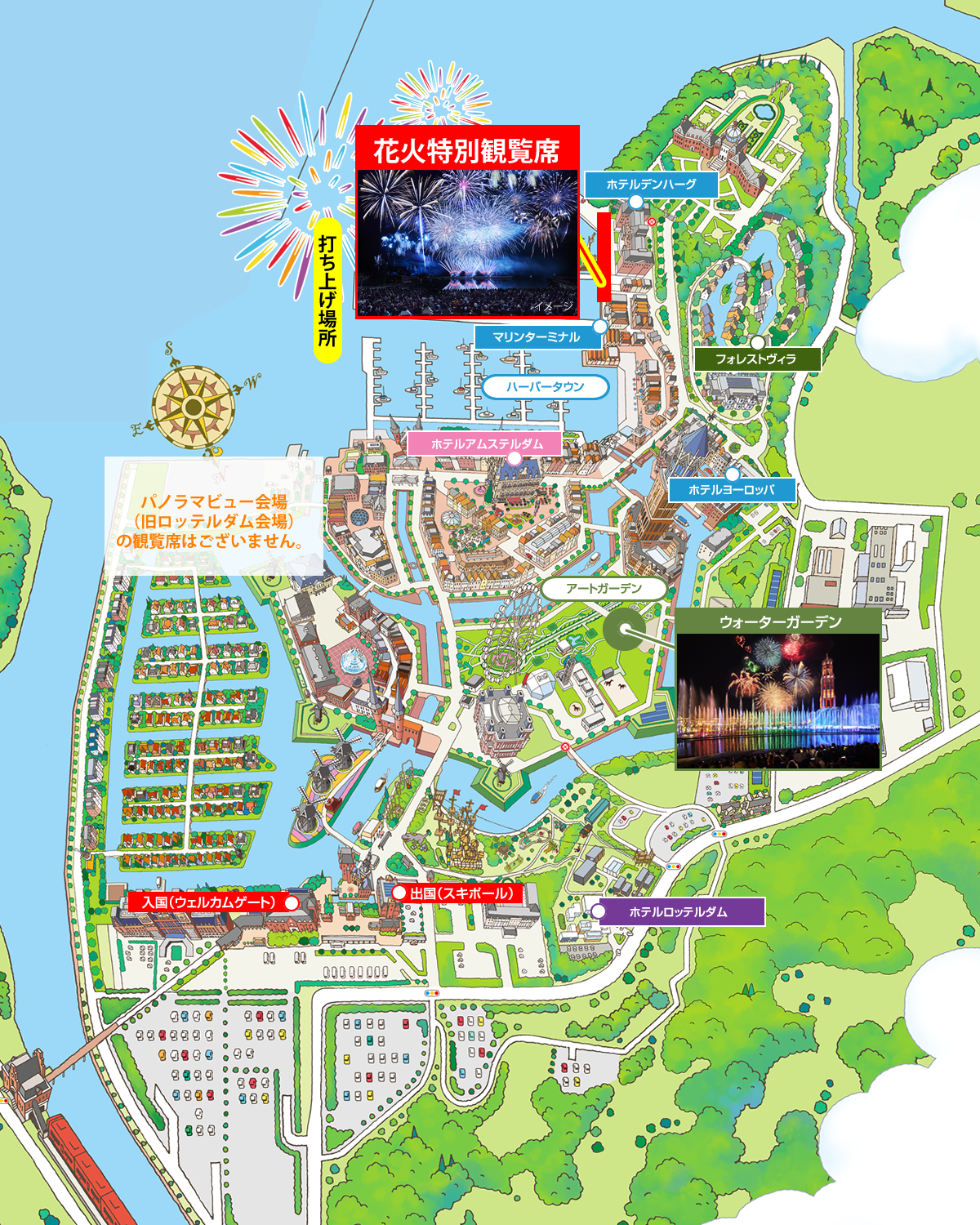 ---
---
I booked an accommodation plan with fireworks bleachers. Is it possible for co-sleeping children to view the fireworks at the bleachers?

【ホテルヨーロッパ、ホテルアムステルダム、フォレストヴィラ、ホテルロッテルダム】
4歳以上の添い寝のお子様は、お一人様につき1,000円でお席をご用意しますので、ご予約の際にお知らせください。 (3歳以下のお子様は、ひざ上でのご観覧をお願いいたします。)
【ホテルデンハーグ】
4歳以上の添い寝のお子様は、追加料金不要でお席をご用意します。(3歳以下のお子様は、ひざ上でのご観覧をお願いいたします。)
【ホテルオークラJRハウステンボス、ホテル日航ハウステンボス】
大変お手数ですが、ご宿泊のホテルにお問い合わせくださいませ。

Can I view the Fireworks at bleachers when it rains?

Unless it is a typhoon like strong wind or heavy rain, the event will be held even in rainy weather.

When it rains, can I use an umbrella or other rain gear?

Please refrain from using an umbrella inside the fireworks bleachers venue as it will obstruct the view behind you. Please bring raincoats and other rain gear.

Can I take my pet to the fireworks bleachers?

花火観覧会場内へペット同伴で入場することはできません。 ハウステンボス入口付近にペットホテル「DOG BOX」がございます。お気軽にお問い合わせください。(有料、お預かりできる頭数には限りがございます。)
DOG BOXハウステンボス店 TEL:0956-27-0287

Is it possible to eat and drink at the fireworks bleachers? Do you sell them at the venue?

There is no food or drink sold at the fireworks bleachers. Food and drinks can only be brought in if purchased at the park.

Is the bleachers wheelchair accessible? Do you have a dedicated seat?

There are no dedicated seats, but you can enter while using a wheelchair. Please feel free to ask the staff on the day.

Is it possible to take a stroller to the bleachers?

You can bring it in. Please feel free to ask the staff on the day.

Is it possible to re-enter the bleachers venue?

Re-entry is allowed. Please make sure not to lose the fireworks special seat ticket for the day.

Is there a first aid room or nursing room at the venue?

There is no first aid room or nursing room in the fireworks bleachers. We apologize for the inconvenience, but please use the nursing room near there.
Click here for more information about the nursing room

Is there a toilet at the venue?

There are existing toilets inside and outside the venue.
I-14 Castelo de Seafood and Porcelain side, I-8 Hananoya side, etc.

Is there a smoking area at the venue?

The smorking area is not the fireworks bleachers, but Please use the smoking area next to the Castelo de Seafood and Porcelain.

I would like to take pictures using a tripod. Is it possible to take it in?

You can bring it in. Please use at a height that does not obstruct the passage or visibility of other guests.

Can I post the photos and videos I took on SNS and blogs?

If you want to take for commercial purposes, you need permission from Huis Ten Bosch.

I booked Hotel Plan with bleachers tickets. When can I receive seating tickets ? 

On the day of check-in, you will be given a ticket with the chair seat number at your hotel.

Are there any rooms in Official Hotels where I can view the fireworks from the room window ?

【ホテルヨーロッパ、ホテルアムステルダム、ホテルデンハーグ】
花火がご覧になれるお部屋が一部ございます。(仕掛け花火等、ご覧になれない花火があります)また、音楽は聞こえません。詳細については総合予約センター(0570-064-300)へお問い合わせください。
【フォレストヴィラ、ホテルロッテルダム】
お部屋からは花火をご覧いただけません。
* All images are images